6:00 p.m. – 7:00 p.m. Intergenerational Supper (Fellowship Hall)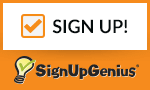 On April 5th, join us for our last dinner until the Fall. Everyone is welcome to come for Wednesday Night Connections catered dinner prepared by Chef Patty and her dedicated helpers at 6:00 p.m. in Fellowship Hall.  There is no charge, but donations are gladly accepted to defray the costs. To help with our meal planning and preparations, please sign up by clicking on Sign Up Genius to the right. You can sign up for one date or all!
It is a wonderful time for intergenerational fellowship, meeting new people, and enjoying a scrumptious meal! Here is what others are saying:
"I loved having a chance to meet others in the congregation!"
"Our whole family looks forward to Wednesday dinners at church."
 "The food was even better than I had hoped!"
See you at the table!