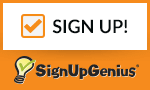 The November gathering of The Third Act luncheon series will be held on Monday, November 20 at 11:30 a.m. in the Fellowship Hall. Our speaker will be Dorcas Smucker, a columnist for the Register-Guard, who writes of family, life experiences and matters of the heart.  She will talk about her perspectives on aging and intergenerational connections from her Mennonite perspective.
After a pause for the busy month of December, we will resume our series on Monday, January 22, when FCC's own Don Essig, noted author, motivational speaker and "Voice of the Ducks" for 50 years will join us.  Other dates in the series for this year are February 19, March 19, April 16 and May 21.  The events on these dates will include a visit from author and Register Guard columnist, Bob Welch and talks by three local faith group leaders, who will address how aging and spirituality are viewed in their faith traditions and cultures.
You can sign up for The Third Act luncheons by clicking on the button above or by calling the church office at 541-345-8741.