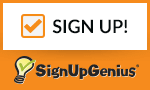 A ministry that provides fellowship and information of interest to older adults (ages 60 and up) through a monthly catered luncheon and speaker series.  Events in this series are typically held on the third Monday of each month in the fall, winter and spring.  The dates this year are Oct. 16, Nov. 20, Feb. 19, Mar. 19, Apr. 16, and May 21.
Click on the button to the right to sign up for the luncheon.
The Basic Philosophy and goals of the Third Act are:
I. Food and Fellowship  (Usually the third Monday of the month)
II. Resourcing for basic life needs related to aging/retirement        
III.   Special speakers providing educational and entertainment
Gift assessment and recognition
Meaningful outreach opportunities
 Intergenerational opportunities
VII. Spiritual enrichment and support
VIII. And some lighthearted fun!
Discussion Groups, Book Groups and Forums 
The Elder Council plans and conducts periodic discussion groups and educational forums on topics related to aging.  Discussion groups have included both book groups and "Wisdom Circles", based on thought-provoking questions related to aging and spirituality.  Previous forums have included intergenerational "Life Cafes", Exit Strategies: a death & dying workshop; and a series addressing aging with wisdom.  Events are announced on the website, in the Shalom and through weekly bulletin announcements.