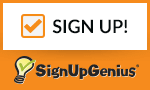 A ministry specifically designed to address the needs and highlight the gifts of our elder population (60 and up).  The Third Act is a monthly luncheon and program with an average 75 participants from September through May.
Click on the button to the right to sign up for the luncheon.
The Basic Philosophy and goals of the Third Act are:
I. Food and Fellowship  (Usually the third Monday of the month)
II. Resourcing for basic life needs related to aging/retirement        
III.   Special speakers providing educational and entertainment
Gift assessment and recognition
Meaningful outreach opportunities
 Intergenerational opportunities
VII. Spiritual enrichment and support
VIII. And some lighthearted fun!